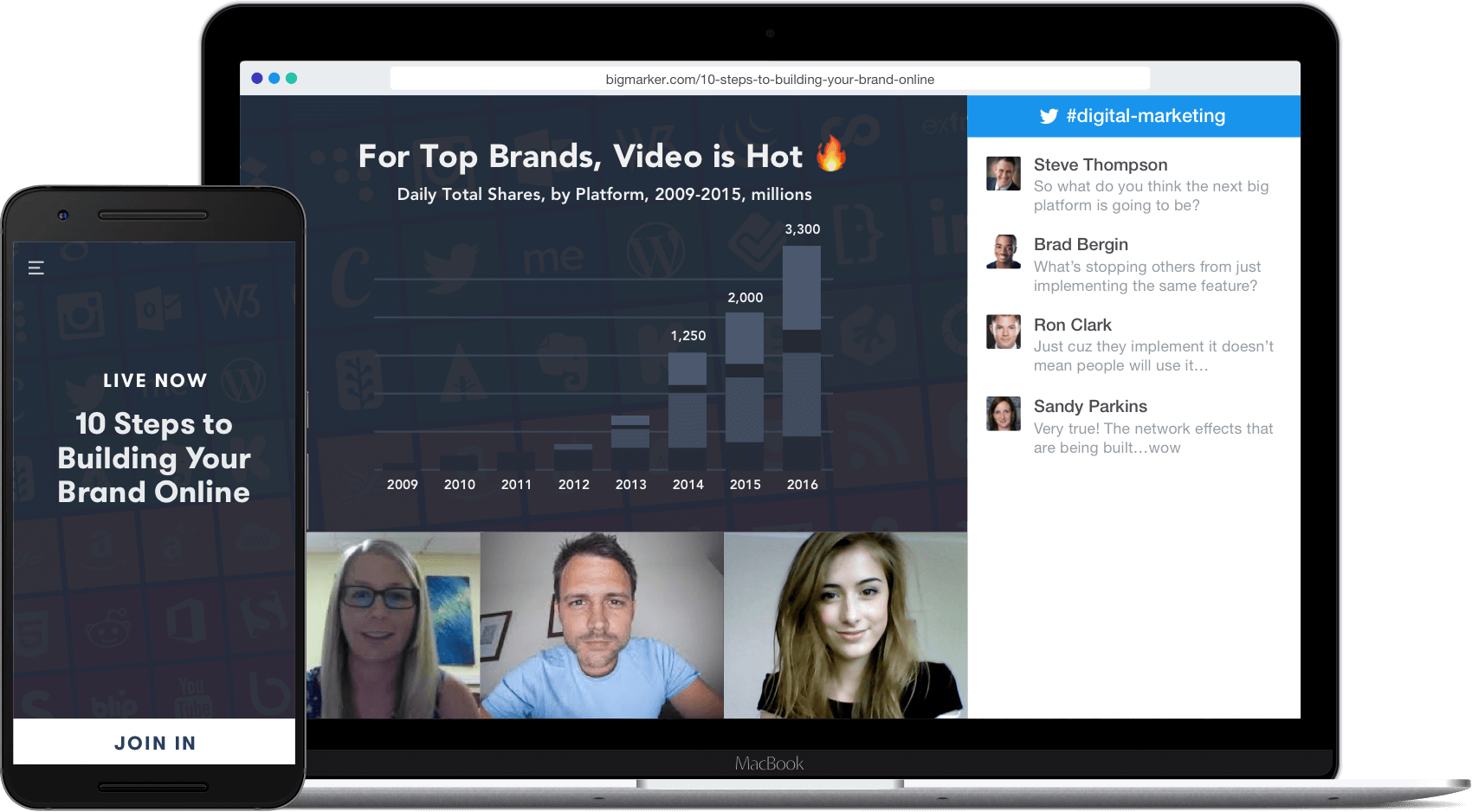 Since each marketer has different goals and preferences for their webinars and each company has different budgets, it is difficult to declare a webinar platform as the ultimate winner. Powerful integrations and marketing feature combined with a flexible and intuitive user interface make BigMarker a compelling choice for many business needs. This webinar service is designed to facilitate the marketing of your webinar. It includes a number of integrated marketing tools to help you do just that.
What is BigMarker and How to Use BigMarker?
BigMarker is a webinar, online event, and presentation software that is suitable for a wide range of companies and industries. Organize meetings, presentations, courses, and more from the Internet without having to worry about platforms or updates. BigMarker is also accessible from iOS and Android devices. It contains the tools you need to interact with and reach your target audience, be it a dozen or a thousand. You can even offer multiple compiled sessions for your series on your channel for free or at a fixed price.
Set up meetings and shows from anywhere you have Internet access. BigMarker's customization options let you customize them for your business. Domain mapping, layout builders, and API's are just a few of your options to make your webinar or presentation channel unique. BigMarker also offers convenient software features such as screen sharing and recording to secure your message. Make collaboration and communication a breeze with registration forms, Q&A chats, and built-in polls.
What are the Features of BigMarker?
On-Demand Webinars
Live Webinars
BigMarker allows you to create an unlimited number of live, on-demand, and recurring webinars. You can easily capture leads or host content by choosing from over 15 branded landing page templates.
Webinar Series: It's easy to create, promote, and run a multiple session video series or course. It is very easy to start a video-based series with several formats.
Automated Webinars
You can focus on your audience by running recorded webinars as if they were live with this webinar service. It allows you to generate business by creating automated sales funnels.
Meeting Room
It allows you to host online meetings and easily share the screen without having to download a web conference room. You can meet anytime and anywhere with one click by simply sending out a personalized link.
Customizable Branding
First adjust the appearance of your webinar homepage, your registration form, and your webinar room. All of this can be fully customized with basic templates and design tools (like color/font settings and image upload) based on your webinar topics and branding.
Marketplace
If you wish to reach a wider audience with your presentation, use BigMarker's "marketplace", where you can list your webinar publicly and create a YouTube-like channel from all of your previous public webinars. You can find these in Google and BigMarker search queries. Be sure to fill out your webinar SEO metadata fields to make it easier to find.
Media Promotion
Import email contact lists into BigMarker through CSV or by syncing with Mailchimp, HubSpot, and Salesforce, or any of the other integrated CRMs. You can use these lists in BigMarker to send personalized webinar invites to your subscribers. You can also manage separate contact lists in BigMarker to send more targeted email invitations from the app directly.
Marketing Automation
BigMarker offers excellent analytics and detailed marketing tools to get started and convert quickly. Make sure you reach your demographic and stay interested in creating an appropriate model for the outreach and customer journey. BigMarker is an intuitive webinar tool with a marketing twist.
Instant Replay:
Do you want to run through a section of your webinar again? You can use instant replay to grab a video segment and stream it immediately. If someone has missed a segment or needs to run the webinar again, it has never been easier. Even competing webinar platforms providers don't really have this feature.
Excellent Landing Pages
BigMarker offers a flexible and customizable landing page that you can brand or make your own easily. People are sitting at your landing page and waiting for your webinar to start. Use this opportunity to create a highly personal and branded landing page that is part of your marketing and establishes your identity before you even start.
Intuitive Chat
BigMarker provides a chat system that is just as flexible, intuitive, and detailed as those of the big webinar service providers. This feature will allow your audience to communicate with you in real-time, as well as giving you the opportunity of controlling the flow of posts and moderate easily and smoothly. BigMarker lets you stay in control of your webinar, Q&A, or demo.
Internal Communications
Organize large network meetings throughout your company and take charge of training, change management, hiring, etc. with the same handy interactive tools that streamers around the world love. BigMarker brings the power of this webinar tool to your office without any obligations.
Pricing of BigMarker
BigMarker offers its users four (4) enterprise and SMB packages. The basic package starts at $29 per month. BigMarker prices are based on the number of participants. The Plus package starts at $79 per month and allows up to 100 participants and a host license. The Elite package starts at $119 a month and offers unlimited webinars with many powerful automation and marketing features. It comprises 500 participants and two host licenses. The Summit package starts at $299 per month and it includes 1,000 participants and 4 host licenses.
Besides the plans listed above, a special request can be made for white-label pricing that supports up to 10,000 participants and provides business support and setup, toll-free phone numbers, branded microsites, a dedicated account manager, etc.
The BigMarker webinar service offers all users a free 7-day (no credit card required) trial plan in which they can take a full tour of the webinar. Users can contact the provider for more information about the demo and trial version of this software. Each free 7-day trial includes all of the features of the plan but is limited to 10 participants.
Signup for the BigMarker free 7 days trial here: https://www.bigmarker.com/signup
Whom is BigMarker Best Suited for?
BigMarker is certainly expensive, but with everything it can do, it is easier to understand how it is a higher-priced software. This could scare small businesses or entrepreneurs who don't really need all the advanced features this webinar tool has to offer. However, if you are looking for something that works in all areas of live video and want to do a lot in the long run, BigMarker may be worth it.
Is BigMarker Compatible with GoDaddy?
Yes, BigMaker is compatible with GoDaddy. If you want to create custom-branded landing pages or URLs and you have your domain registered with GoDaddy, you will be given simple instructions on how to point your domain to BigMaker.
Customer Reviews of BigMarker
Overwhelmingly, reviewers appreciate the simple setup of BigMarker, especially since it is accessible from a variety of platforms. The operation of BigMarker takes little time, and functions such as surveys and questionnaires are also immediately available. Even screen sharing is easy to start. Reviewers who hosted and participated in webinar streams say that BigMarker makes it easy to participate in all online presentations. BigMarker is also known for its efficiency. Overall, the reviewers are satisfied with the way the software works and cite its high-quality and speed as high points.
BigMarker is generally viewed by reviewers as simple and inexpensive with regard to webinars. Its ease of use, its intelligent systems, and its many advantages make it a top-notch option to get in touch with your audience. BigMarker combines excellent functionality and reliable quality to deliver great presentations, streams, and classes at all times.
Conclusion
With BigMarker, you can create engaging webinars and demos that you can share online. Whether you are trying to impress a potential customer or presenting your next big idea to your boss, using a live, pre-recorded, or simulated-live pitching can help you sell your presentation. With BigMarker, you don't have to look any further to create live streams and webinars. You will develop your brand and encourage people to participate.
Pros
BigMarker offers you a robust and feature-rich platform that you can use to organize webinars, online training, online meetings, etc. Regardless of the size of your audience or if you want to monetize your webinar sessions, BigMarker has all the features and tools to cover all the basics.
With the software, you can easily organize webinars and meetings and interact with your desired number of attendees. Powerful features such as webinar recording, screen sharing, Q&A, and polls make every webinar more interactive and interesting, which then yields a better result. By integrating with over 500 business applications and systems such as HubSpot, MailChimp, Salesforce, etc., you get the flexibility you need to make sure your processes are optimized and the entire webinar session is a success.
BigMarker is also a great help to keep in touch with your audience. With the design options available, users can create and customize email notifications, invitations, and more to both subscribers and potential customers. The software is simple enough for users of all skill levels to get in touch. Also, BigMarker's customer support is available, easy to use, and ultimately effective when contacted.
Cons
The most common mentioned concern about BigMarker is occasional crashes or sudden restarts that were quickly fixed but annoying. Fewer audio issues were mentioned. BigMarker is constantly updated to address these issues. Even though lagging and stalling can occur, they are not common.