One of the biggest game-changers in online marketing is live webinars; this is because gurus and everyday marketers can sell to hundreds of people all at the same time. GoToWebinar has been around forever – it is perhaps the original player in the webinar space.
GoToWebinar is a webinar platform for businesses and merchants, with which they can create and conduct video and online conferences with their customers, shareholders, colleagues, etc. it is a comprehensive and sophisticated online tool that provides video, audio, and speakers functionalities to create webinars, online video conferences, and many more. The applications of this platform are wide and vast. GoToWebinar is a great option for professionals and businesses who want to expand their reach to their target group, offer training through audio and online conferencing, and engage participants without physically interacting with them.
Regardless of size, professionals and businesses can use this platform to market their products and services while also improving employee education and training. GoToWebinar offers a simple and intuitive user interface and easy-to-use platform and is the best self-service webinar application for many individuals and businesses. Setting up is very simple and does not require IT support. It is PC or Mac compatible, so attendees can easily attend a webinar without having to worry about system requirements. GoToWebinar enables webinar hosting for about 5,000 participants for events such as corporate communications, training, and marketing.
You can host webinars on GoToWebinar in a wide range of languages, including English, Spanish, German, Italian, French, and Chinese. You can set your default language or change it yourself in the meeting. Although this is not the case with every webinar software, GoToWebinar differs from those who do so because it doesn't offer a translation tool for individuals but for the entire webinar. However, changing the language changes everything, including chat and controls, while other translatable webinar services only apply to chat.
This webinar software offers various customization options. When planning a webinar, you can customize the registration questions, invitation, and waiting room that your guests enter before the webinar presentation begins. With these personalization options, you can leave a positive impression even before the webinar presentation. The service can also be integrated with Microsoft Outlook and social media networks to invite participants.
GoToWebinar offers presenters a user interface that differs from many webinars platforms because it promotes a free-floating dashboard on your screen instead of a webinar console in full-screen mode. This webinar platform offers applications that allow people to attend using a tablet or smartphone. It is one of the few programs where participants and moderators have to download an app to view a webinar. This is a less convenient option than the other webinar services we tested.
Unlike other webinar platforms, it doesn't automatically save your webinars in the cloud. Instead, the converted file is placed in the document folder on your computer. You can then download it to your GoToWebinar store, edit it elsewhere, or publish it on your website. GoToWebinar storage can last for up to a year.
This service provides you with reports of attendance and attention as well as polls and survey results. These reports can help you determine the success of your webinar and assess your participants' interests. You can view the results of the survey after the meeting while the polls offer real-time reports. GoToWebinar also has a real-time feature that notifies you when someone opens another application on the webinar screen. This may indicate that the person is not interested, is sending instant messages, or is working on other tasks. Moderators can use this insight as an indication that they need to win back the audience. Only a few webinar services offer this helpful comment tool.
Another feature of this webinar platform is real-time screen sharing with annotation features that allow the host to highlight, circle, and report on certain elements in your presentation. If necessary, you can transfer control to one of your attendees. Participants can ask questions and comment through the chat window and status update features.
GoToWebinar can be integrated into popular communication tools through online conference functions and email automation. In addition, custom forms can send valuable processing information directly to CRM platforms. This webinar platform integrates with third-party applications to give customers more ways to interact with participants and improve their satisfaction.
You can host a webinar at any time. This is particularly useful when trying to build a customer base in another country. So, GoToWebinar phone support and live chat are a big plus. Also, technicians can view your presentation from their side so they can log in to problems during a session and diagnose the problem. This webinar service offers videos in which presenters and hosts learn how to use the software. It also includes videos for participants on the basic functionalities they may require. This is a great feature because not everyone who attends a presentation is familiar with the technology, even if it is easy to use.
GoToWebinar offers four versions of its software: Starter, Pro, Plus, and Enterprise.
There is also a 7 days free version of GoToWebinar that offers limited functionality for up to 100 participants. To start a free trial click on this link. GoToWebinar does not require a credit card to sign up for the free trial, an approach we wish was more prevalent among business services.
GoToWebinar Starter costs $89 per month (billed annually) supports up to 100 attendees.
GoToWebinar Pro costs $199 per month (billed annually) supports up to 500 attendees.
GoToWebinar Plus starts at $429 per month (billed annually) can manage up to 1,000 participants during a session.
The Enterprise (call to get a quote) is best suited for those with up to 5,000 participants.
Whom is GoToWebinar Best Suited for?
Marketers
GoToWebinar is an easy and effective tool for marketers to drive better leads for their business. This is because it allows them to increase brand awareness, educate current prospects, generate new leads, and move potential buyers through each stage. It gives them an opportunity to expand their potential reach by converting webinars to on-demand content. Marketers can customize their registration forms and brand their emails with colors and logos.
Trainers
Customer service teams, corporate trainers, and other training providers can use this platform to create highly engaging educational experiences to drive online learning. They can keep learners engaged with live questions and answers, surveys, polls, and more. Also, trainers can drive interaction by inviting participants to ask questions and sharing their webcams. GoToWebinar gives trainers the flexibility to show videos, give a software demo, or share a presentation on your screen.
Internal Communicators
GoToWebinar can help internal communicators keep employees inspired and informed. HR and IT professionals can use this webinar service for important town hall or all-hands company meetings that include remote employees or multiple offices. With automated webinar marketing, you can easily send out reminders, webinar invites, and follow-up communication.
What is the Difference Between GoToWebinar and GoToMeeting?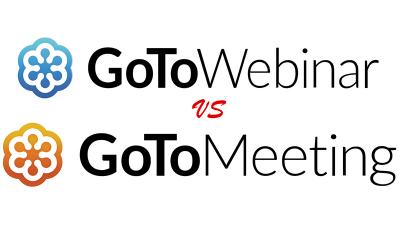 Many people think there's no significant difference between GoToWebinar and GoToMeeting, but they are a bit different. GoToWebinar is more geared towards speakers, so a speaker or moderator can present a product demonstration or organize a webinar for an online meeting. While GoToMeeting is more like an online chatroom or meeting in which more than 2 participants interact with one another. Here are some other differences between GoToWebinar and GoToMeeting.
Purpose of the Presentation
If you want to discuss a business plan or business strategy with other colleagues, you should opt for GoToMeeting. To publicize your product and interact with the public, GoToWebinar is ideal.
Scheduling and Registration
These features are available in both; GoToWebinar and GoToMeeting. However, with GoToMeeting, you can immediately set up an online meeting and work with participants. If you are looking for your audience to register and join, GoToWebinar is the ideal option.
Number of Participants
GoToMeeting doesn't support more than 25 people at a time. This means that only limited participants can participate and interact with each other. With GoToWebinar, you can accommodate up to 5,000 participants.
When it comes to distinguishing between the two tools; they are reliable and perfect for what they were built for. It largely depends on your needs and the type of meeting. If you want to immediately organize an online meeting of up to 26 people, you need GoToMeeting. If you want to involve the public in an online webinar that ultimately requires event scheduling, you should choose GoToWebinar.
Customer Reviews of GoToWebinar
Many GoToWebinar customers have evaluated the product. Their comments include their actual experience with the application, as well as their recommendations and opinions, mainly from the point of view of SMEs. Here is a summary of what they say:
Without a doubt, the customer support provided with GoToWebinar is one of the top pros of the product. While most users never seem to have to ask for help, those users who do, noted that customer service is knowledgeable, courteous, and easy to reach. Regardless of whether you need to learn to access a specific function or if technical problems arise, GoToWebinar agents keep track of the problem until it is resolved.
In addition to the excellent service, reviewers praise GoToWebinar's user interface. They say that creating professional-looking webinars with built-in tools is easy. New users rave about how a large number of GoToWebinar online tutorials are reducing learning curves and training costs.
Also, GoToWebinar customers say that the product offers their webinar participants exceptional experiences. By following easy instructions, people can quickly register and attend webinars, and there are very few interruptions. In summary, the solid experience of this software minimizes the total cost of ownership while maximizing the return on investment. In general, GoToWebinar users also praise the platform for its flexibility. GoToWebinar is designed for desktop and mobile users so that users can create and participate in webinars from almost anywhere.
Although many users have splendid things to say about this webinar service, they also point out certain drawbacks to the application. For example, the price of the product is often high on the list of "disadvantages". As a result, the powerful functions of GoToWebinar are not available for many small businesses and startups.
GoToWebinar users also wanted GoToWebinar to make more customizations, such as branding, to make their webinars more consistent with their corporate website. Reviews also often report difficulties in modifying existing content. Others complain about screen sharing restrictions and other custom features.
Overall, the reviewers believe that the benefits of GoToWebinar far outweigh the disadvantages of the product. In summary, GoToWebinar provides businesses with the tools they need to create and organize live webinars to increase sales, generate leads, and improve communication. Its powerful features and ease of use make it a favorite of many small and medium businesses.
Pros
The main advantages of GoToWebinar are its email automation, marketing integrations, engagement via videos and polls, and easy to set up webinar. With GoToWebinar, you can easily create an online seminar, invite participants, and give a presentation. The presentation interface is quite different from many other webinar services, but has certain advantages if you need to access your computer during your webinar.
With the ability to translate the entire user interface into one of several languages, it is a good choice for companies with offices in any non-English speaking country. It offers a comprehensive customer care support. Additionally, it offers businesses solutions to be transparent with their employees and customers when offering knowledge, brands, products, and services.
Cons
GoToWebinar is the industry leader, but their platform isn't the perfect fit for online marketers. Their pricing packages are not affordable for the average person, and it requires attendees to download the software. Those who are not tech-savvy will quickly give up on this process which can affect your bottom line. Beyond that, GoToWebinar does not offer a fully functional autoresponder which is necessary to send a series of scheduled messages to attendees.
Additionally, they don't offer custom leadpages or sales pages. Furthermore, GoToWebinar doesn't integrate with customer relationship management (CRM) software like SalesForce automatically, but the host can program it using the open application programming interface.
GoToWebinar Support Telephone number: 
Toll Free: 
+1(833) 851-8340 
Long Distance: 
+1 (805) 617-7080
Conclusion
GoToWebinar offers a complete webinar service with an easy-to-use platform and useful tutorials with which you can present unforgettable online seminars. While it requires downloads for attendees and presenters, its unique user interface and robust functionality, as well as the ability to switch the user interface to multiple languages make it a robust webinar solution.